COVID-19 Guidance & Measures
Important Update
Unfortunately, due to staff having to self-isolate, we've taken the decision to close the Woolly Sheep until at least Friday 6 August.

We're very sorry for any inconvenience this may cause, but the safety of our customers and team members has to take priority. We'll be contacting everyone who's booked in over the next couple of days, so please be patient with us and we'll update you as soon as possible.
Below are the new rules for visitors to the pub from 19 July onwards - please have a read through before you visit and if you have any queries let us know:
Masks will no longer be mandatory, but we do advise customers to continue wearing them if comfortable to do so.
We are continuing with the Rule of 6 indoors and maintaining table spacing during this transitionary period. We'll update you when this is changed.
Customers can now order at the bar, however we ask that nobody stands by the bar while drinking/eating in order to keep the area clear.
Table service will remain and customers can still order through the app.
The track-and-trace QR code and paper option will still be available to check in with. This is no longer mandatory, but again we would advise customers continue to use it.
The one-way system will be scrapped and customers can enter/exit through either the front or back doors.
Remember, this is going to be very strange for many; positive for some and not so positive for others. So if you visit us, please abide by our new rules and be kind to our staff.
Your patience and understanding is going to be very important as we all adapt to another new normal.
Frequently Asked Questions
Q. What date do you open?
A. We reopened on Monday 12 April.
Q. When will I be able to book a room?
A. Accommodation opened on Monday 17 May.
Q. Do I have to book a table?
A. We always advise booking a table online before visiting to avoid disappointment, but walk-in tables will be available also.
Q. How do I book a room?
A. Accommodation is available to book online.
Q. Are you dog-friendly?
A. Yes, we are very dog-friendly and have a selection of dog-friendly rooms available.
Q. How many people can I visit with?
A. A maximum of six people indoors or two households of any size; groups seated outside must be smaller than 30 people.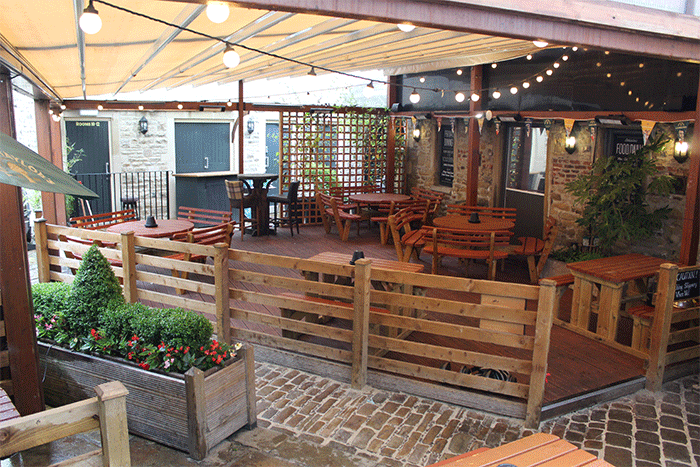 We want you and your family to feel as safe as possible. That's why we have invested significantly in new and extensive protective measures to comply with all guidelines set by the government in response to the coronavirus (COVID-19) pandemic. These include:
Innovative dry mist 'fogging' sanitisation provided by Protect Pro Solutions, based in Dewsbury. This will be deployed throughout the pub and all rooms prior to reopening for airborne and surface contamination control which meets NHS standards
An infrared thermometer to allow temperature checks for team members ahead of every shift
New safety signage to reassure and inform customers about new guidelines
Outdoor seating separated in line with government guidelines and physical screens introduced between indoor seating
New hand sanitiser dispense stations situated throughout the pub
Customers will also be asked to make some small changes to help the pub stay safe and stay open:
Check menus online in advance
Pay by card
Use the sanitisation points regularly to minimise the chances of infection
In addition to this, for a temporary period the Woolly Sheep will offer a more focused menu to achieve their usual high service standards with a reduced kitchen staff due to social distancing guidelines. The menu will include pub classics as well as vegetarian and vegan dishes and is available to view through the below link.